over the last few months I've learned how to live with less space & stuff.
and not just learned but

enjoying

living with less space & stuff.
Less toys to pick up.
Fewer dishes to wash.
Not as much stuff to organize.
Less on the walls & shelves collecting dust.
Not as many things for the babies to get into.
Fewer things distracting me from time with my boys.
Although I wish I could say the same went for the laundry.
But now that means I have 2 storage units full of stuff I
feel
like I don't need. i haven't used most of what i own in months! months people. but there are important things like birth certificates, tax stuff & other such papers to hold on to.
I mean I'm even keeping my fridge & pantry less cluttered. Because there just isn't room to keep the non-essentials. I buy what we'll use right away and I'm learning to meal plan a little better. freedom i tell ya!
fall is a season of preparation...preparing for the long, cold winter that lies ahead. we pull out the blankets & coats, turn up the heat and stock the pantry & fridge with our fall harvest until they are overflowing. it's about making your house feel warm & cozy & inviting to be in so you don't
have
to leave it. and one way we do that is by filling them with holiday decorations. and in that, I find myself wanting again...
Not sure if that's just me caving to the advertising, holiday displays & simply just
wanting
or if there's more to it. i mean they do a great job of putting new & cute things out there every year.
super cute pillow.
but it wouldn't last a month in my house.
nothing says snuggly more than a plaid fleece blanket!
Or even this cute monogram. although i'd use a pre-light garland & hang it outside.
and then it dawned on me that it's more that greed & wanting. It's about creating a safe space. A retreat to grab a blanket & curl up in on cold & rainy winter days. a place full of memories & nostalgia. a place that you not only want to be, but
stay
in for a while.
So while we unfortunately will not be decorating for the holidays this year because the closing date on the condo is for mid-December. Getting more stuff out just to re-pack doesn't sound appealing to me at all. BUT I am figuring out how we can do little things still to celebrate the holiday season and maybe even decorate a bit.
I love advent calendars and both the big boys are old enough now to participate this year. I think it's a great compromise to our situation. And ive been searching for a calendar that I love for a couple years now & been unsuccessful. i don't like the idea of just handing out candy
that's what halloween is for
so w
e'll be doing lots of crafts & activities. the things we will do for advent will help decorate this place but still be disposable. We'll learn more about Jesus & the true Christmas story, but also introduce and explain who Santa, the elves & Rudolph are.
I don't want my kids to be the ones who burst the bubble of those that belied in Santa.
I'm finding myself pretty excited actually. Decorating for the holidays, making my home cozy & warm...but with less. perfect!
And once I nail down what each day of the advent calendar holds I'll post it. For now enjoy the awesome advent calendar I just bought from
NaptimeDiaries
.
go check it out!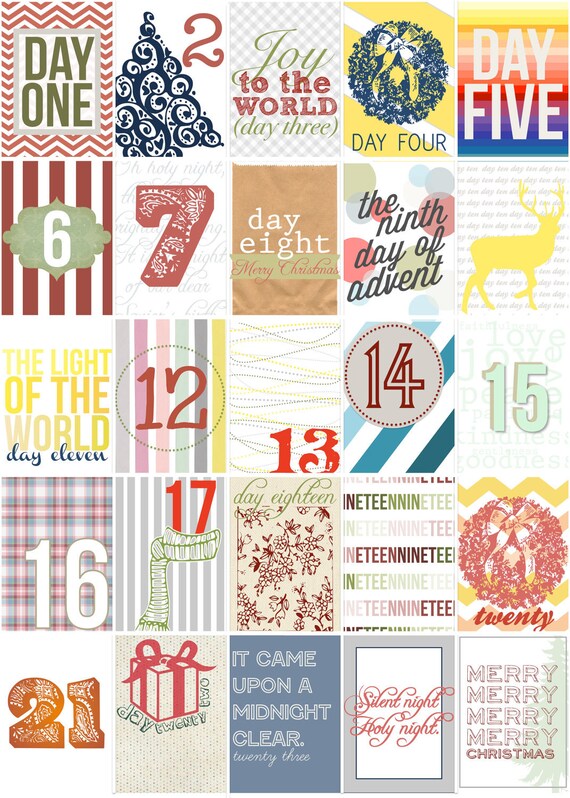 and today i'm thankful for:
Just the right advent calendar!
That I have stuff if I want it...but in a storage into & not cluttering my house.
The chance to create traditions & memories for my boys.